Alternative to google classroom: SmartClass Hub for language teachers
Teachers around the world have been working nonstop to continue teaching their students amid the Coronavirus outbreak and school closures everywhere. This is especially challenging for those teachers that didn't have an online teaching platform already set up. Many teachers are leaning towards using google classroom with their students, as that is what they have heard about and what's free. But what about alternatives to google classroom? There is something even better for language teachers!
Google has developed a great tool for teachers, and makes distance learning possible for hundreds of thousands of students right now, but is it also the best online teaching platform for language teachers? google classroom was a supporting tool for teaching high school history classes, but for my English and German classes, I was missing the interactive components of speaking and listening. There is another option for languages though: SmartClass HUB. I'll let you decide which one you nominate for "the best language teaching platform" award 😊
1. What I like about Google Classroom
The layout is simple, very intuitive, and automated windows pop up to inform you what you can do next, or how to improve your classroom. It didn't take much time to get to know the different buttons and create the first assignment. Students can easily access Google Classroom with a generated class code. That made it super easy for them to join a class or at home. The message board shows everyone right away what's new, what has been posted, and what the assignments are, and the integrated Google calendar gives students and teachers a good overview.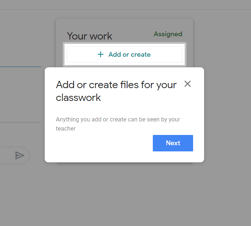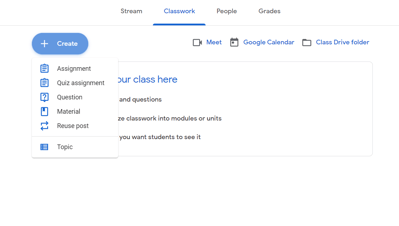 Video chats or messaging are not available directly in Google Classroom, but with Google Meet, that's easily possible. So you can connect with students outside of face-to-face interactions and answer questions.
Another great thing about Google Classroom is that students can chat with one another and work on assignments together.
My students liked that they were able to upload their own files and everything was saved in a "Classroom Drive". They really felt they were a part of the learning experience.
2. What I am missing in Google Classroom
While there are many options to customize your layout and have different colors and fonts for different assignments, I was missing more templates for quizzes and assignments. The only auto-graded options were all some kind of multiple choice activity. I like open text prompts, too, but especially as a language teacher I was looking for something more. There are so many different types of learners that we have in our classes, and I find it very important to have a variety of activities.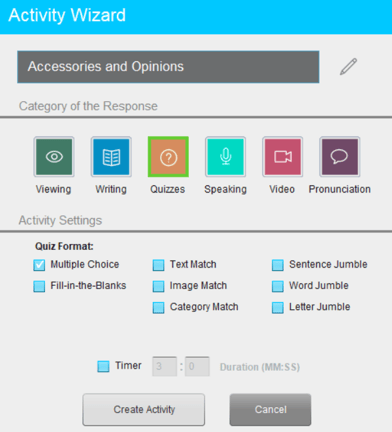 The SmartClass Hub offers 9 auto-graded activity templates!
Another thing that was frustrating: I was able to tell students to record themselves and send it to me, but most had trouble uploading bigger files, or they didn't have a recorder on their device or didn't know how to access it. The few uploaded audio recordings I had, I had to download, listen to, grade separately, and then go back and send a message to students. It was such a long, and labor-intensive process that I barely found it worth it.
Same with any attempt to have multiple questions in one recording or a conversation. It wasn't possible for students to record over my voice or prompts so they had to read a question, then answer, then go back in the document/assignment, read another question, answer again. Very time-consuming for them and they weren't happy.
A few more things I was missing:
Setting a max time: Especially for tests and quizzes, I wanted the opportunity to set a time in which I wanted an assignment completed.

Students sending videos to me (same back and forth and problems as with audio)

Ready-to-use activities already set up for me as an example or to simply assign
Pronunciation help for students when I am not around to help pronounce a word or sentence for them

Flashcards for vocabulary training

A language lab component for the classroom: pairing students, students/teacher share their screen, listening in on student conversations, recording them

Simultaneous testing for students with audio/video and lots of speaking and listening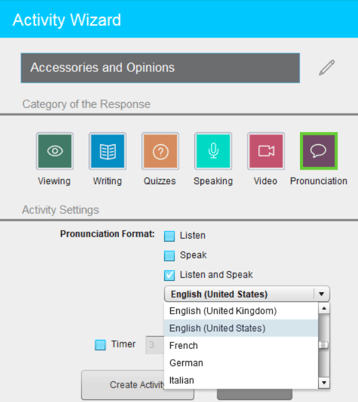 3. Alternative to google classroom: SmartClass
Everything you might be missing in Google Classroom is available in the SmartClass HUB (but not everything from Google Classroom is possible there either) and the testing and language lab component can be added for the classroom/school with the SmartClass+ LIVE.
For English, there is an entire curriculum (CEFR Levels A1 through B2) already available with more than 450 different activities per level (and over half of them auto-graded!)
There are 19 different templates for activities. You can upload PDF, Images, Audio, and Video files or author your own audio/video file right in the software (like recording a lesson and sending it to your students outside of class)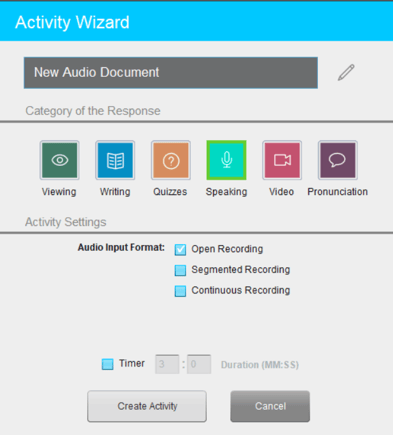 Most importantly: There are many options for students to be listening, speaking, and practicing pronunciation:
Segmented recordings: having an audio file and allowing (variable length) responses within the audio (great for conversation practice)
Open recordings: Give one or multiple stimuli and students can record themselves right there in the software
Continuous recordings: Listen to a question or vocabulary word in your audio file, and give students a certain amount of time to answer/repeat the word (great for vocabulary training).
Videos: Students can record videos within the assignment, so teachers can easily see the assignment, watch the video, and give instant feedback without downloading/uploading.
Feedback: Both written and audio feedback are available for every single activity that is assigned. A huge time-saver for teachers to record a quick message and another bonus listening activity for students.
There are many videos and brochures available for teachers and students to learn more about the software, how to set it up, how to create activities, and how to use it in the classroom. On-site remote training is also available for schools/teachers, which is very helpful.
4. Summary
Google Classroom is a great tool for teachers as it is free, easy to use, customizable, and compatible with any device. For math, history, or social studies teachers, this is the perfect platform for remote teaching or as an add-on for homework or classwork.
SmartClass HUB is not a one-size-fits-all program for all subjects but rather is specifically designed for language learning. The pronunciation activity is AI-supported so that students can practice pronunciation anywhere without needing teacher feedback.
The activity templates are versatile and designed to help teachers differentiate and create authentic, fun, and meaningful activities for the classroom and at home. While I miss the chat function, with the LIVE upgrade, that is still possible inside the school setting.
To make it easier for you to decide which one is best for you and your students, I also created this overview of the main functions.
Ideally, someone would combine these two tools, and you'd have the perfect solution for language teachers :)

Which online teaching platform is the best one for you? And why do you love it so much? Leave us a comment below!