Motivation in language learning - What really matters to students
It's estimated that about 60-75% of the world's population speak at least two languages. That's at least 4,604,000,000 people! And while many of them grow up bilingual, that still leaves millions and millions of students learning a foreign language in school or a similar school-like setting. In this post, I want to share the results of a survey that 164 language learners from all over the world responded to. The main idea was to find out what motivated and engaged them in everyday language lessons.

1. Motivation in language learning
As teachers, we always try to find new ways to motivate and engage our students, but with all the millions of things we already have on our plates, it's hard to find the time to ask our students directly and cater to their individual needs. Some of those important questions we should regularly ask our students are:
What motivates you to learn a foreign language, and what helps you to continue with it? What matters the most to you? What kind of activities do you like? How do you learn the best? And what do you expect from (teachers like) me?
That's why I went out there and asked these questions for you :)
Out of 200 surveys sent out to language learners worldwide, 164 of them got back to me with unique, insightful answers that I want to share with you today.
Most responses (68) came from people whose native language is English, while 29 people marked German, 23 Arabic, and 11 Spanish as their native language. But there were also native speakers of French (4), Luxembourgish (7), Portuguese (3), Italian (2), Russian (2), Hungarian (3), Romanian (2), Uzbek (1), Finish (1), Albanian (1), Polish (1), Turkish (1), Indonesian (1), Serbian (1), Bengali (1), Urdu (1), and Persian (1). I was both happy and surprised about all the different native languages. I hadn't expected so many responses from all over the world, but it makes the data collected so much more meaningful.
2. Languages learned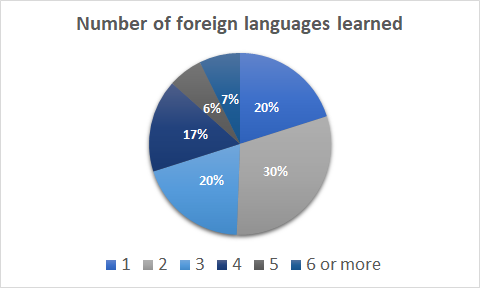 Most people were learning two foreign languages, while 20% of learners were learning one language, and 20% were learning three languages. What surprised me was the number of people who had learned 4-6 (or more) languages. I grew up learning English and French in school, with German being my native language. I thought that was pretty impressive already. Now, I also forgot a lot of my French because I haven't been using it enough. So I take my hat off to all those who have learned or are learning all these languages and keeping up with that. Well done!
3. Motivation - what really matters to students
What interested me the most was the motivation behind learning a second language and what students felt worked the best. We, as teachers, can be trying every method and material, but in the end, it's our students that tell us what works for them and how we can engage and motivate them throughout their language-learning journey.
Only 14% of the learners surveyed said they didn't like language learning (score six or lower on a scale of 1-10). Everyone else gave language learning a score of 7-10, with over 32% giving it the full 10.
So why are these people learning a foreign language? Anyone could select all that applied to this question, and the answers confirmed my theory.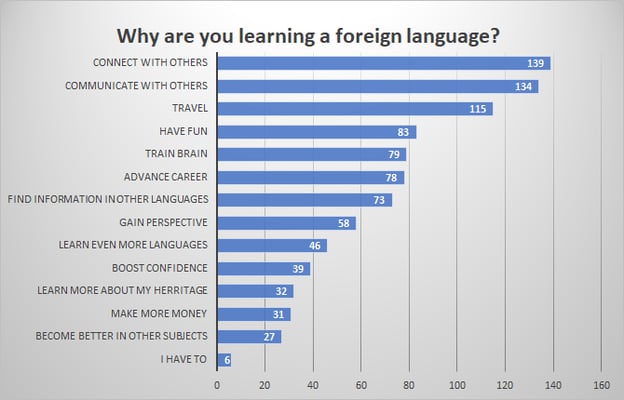 Making a connection or communicating with others were the primary reasons people are learning a foreign language. That made me happy in today's technology-driven world, as I was worried that online translators and smart devices would become the means of communicating. But personal communication and connection still matter. And I get the six people that said, "I have to" :) I felt the same way about having to learn Latin in College for my History Major. I don't remember a thing and never found joy in it, but I can now appreciate it. Learning Latin opened my eyes and makes me feel for my German students, who have to learn all these crazy grammar rules and endings and exceptions to my native language. I never knew how hard German was until I had to teach it!
4. Favorite activities and resources
Now let's take a closer look at what kind of activities and resources students enjoy the most.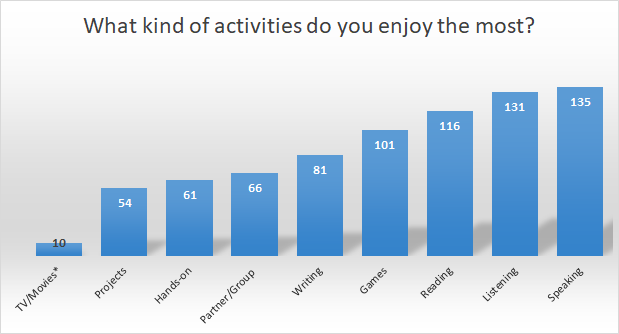 *TV/Movies were not an option but added by ten people on their questionnaire.
When I taught German at a university, my students were timid and hesitant to speak in class. They never picked listening or speaking activities in the little surveys I handed out. Contrary to that, my 2nd graders at a German Immersion School didn't like most writing assignments. I think it's a very personal choice, depending on your personality. The one thing I learned, though: When you have the "right" kind of speaking and listening activities, you can motivate even your most introverted students to being comfortable speaking in a foreign language. When I introduced the SmartClass HUB to my university students for homework and in-class practice, they slowly changed their opinion about speaking and listening. I think the power lies in allowing students to practice, make mistakes in a safe environment, and expose them to many of these activities daily. Looking at the results from this survey now, it seems like teachers are doing a great job integrating meaningful and authentic speaking and listening activities that make their students choose those as their favorites. Good job, teachers!!
Here are a few more of the responses that learners could type in for the question "Which activities do you like the most and why?"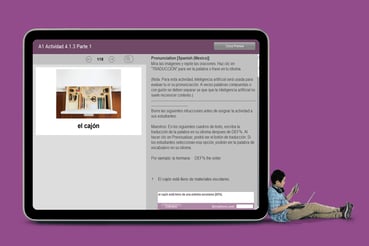 Speaking:
chat with foreigners

Total immersion

Talking with a partner because it's entertaining

I like speaking and listening activities because it at least makes it feel as if I'm engaged in conversation. I feel more compelled to do something if I know a response is being awaited. In general, I just like social interaction.

Conversations - because I got to practice them all in class or with a friend.

Anything that has to do with speaking the language!
Listening
so I can hear the words and learn how to produce them.

Most helpful in other countries to understand foreign people.

Music, films, and tv programs, and documentary

I like listening activities the most because I am not super confident in speaking (even in my native language) and don't always join in on conversations but am always listening, whether it's watching tv and movies, listening to music, or just being part of a social group and following along with the conversation.
Writing:
I can do it best of all

it's the skill that requires formal practice the most

because it gives me time to edit and perfect my language abilities. I also like speaking because it gives me new ways to communicate with my family members.
Games/Projects
as it feels like you aren't learning. Flashcards also, but you hardly see these

Hands-on activities because they're engaging
Reading:
as it boosts my imagination.

you get better at spelling and writing, you can take more time if needed, and you can read over a sentence/word again if necessary ...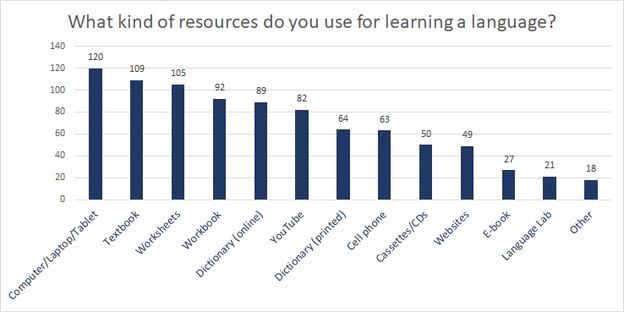 I was honestly surprised about the high number of people that still enjoy printed media. While I always need something printed in front of me and like to take notes by hand rather than on the computer, I felt like I was a minority. With tablets, smartphones, and technology fast advancing, I expected many more language learners to choose digital content. In the follow-up question, "Which resources do you like working with the most, and why?" I learned, though, that a combination of printed and digital content is often preferred and reaches most students:
Label stickers, flashcards, homemade signs and activities, and games are fun and engaging with my kids and friends, and family.
Software and books, you can use anytime and anywhere

Mobile devices - to learn everywhere

Flashcards can be used in so many ways

Real-life, up-to-date, natural media. Real-life language, chosen for its comprehensibility, highly engaging

People :)

I like using a workbook the best. I like doing activities and practicing grammar. I have a book with lessons and activities and audio that goes along with it.
YouTube videos or few websites that upload comprehensive videos that help to learn
Instagram memes. They have a lot of valuable info for me
Apps (Kahoot, Quizlet) because it's playful

App because you can practice anytime anywhere
Workbook. I am a visual learner, and rereading the phrases helps me retain them.

Textbook and visual aids

I like Duolingo because I can fit it into my busy life and have 1 to 1 skype tutorials to practice my learning with a tutor.

5. Conclusion
Students love language learning, phew, that's a relief! And while there are many different types of learners worldwide, they all share a love and excitement to be able to communicate and relate to one another. Our job is to foster that love and give our students the best language-learning experience we can think of. In order to do that, it's essential to include our students in our daily lessons and reach out to them about what they want to learn and how they want to be doing this. It might seem like a lot of work at times, but it's genuinely worth the effort. Combining print and digital media, offering various resources and activity types, and making sure our students are exposed to as much authentic material and native speakers as possible are crucial elements for a successful language classroom. If you would like a copy of my questionnaire to send to your students, please reach out or comment below.
And with that, I leave you with very encouraging words from the survey participants. Share them with your students, or soak them up yourself while you continue to improve the languages you learn and teach.
Any other comments you would like to share?
Read read read with a loud voice.

Make it as immersive as possible, let me experience by myself. More self-paced listening, more recordings.

More live experiences, like onsite learning. Speaking and listening to people in real situations.

I would have loved to have a language lab to hear myself speak, use the active language, and reflect more.
The fear of making mistakes prevented me from learning English in the first place. I didn't repeat this mistake learning Spanish - people made fun of me in México, and I enjoyed it. My experience was much more positive!

I wish there were nicer teachers, not judging us on our mistakes but encouraging us to do better.

Learning is a long life journey

STUDY ABROAD

Learn more languages when I am younger

Limits only exist in your minds, so never stop learning

To make it more fun and to have a variety of interesting resources like videos and pictures

Learning a new language opens new doors to the world. Don't give up because it's hard and taught at the very beginning, but you will be used to it and practice.

Never give up!