Double your students' learning outcomes by using SmartClass!
As teachers, you are constantly looking for ways to help our students learn more and better. As language teachers, you want to ensure they perfect their pronunciation and are confident when speaking with natives and other language learners. You also want your students to have fun and stay engaged during lessons and homework.
If, on top of that, you also want to double your students' learning success, using SmartClass is THE solution for you!
What is SmartClass?
The SmartClass HUB by Robotel is a language teaching platform that allows teachers to assign activities to students instead of having students fill out worksheets. With SmarClass, students are actively engaged in their learning and have more opportunities to produce vs. just being receptive. Within the HUB, you can create your own activities and/or choose to use Robotel's own content for English, German, and Spanish.
How will using SmartClass double your students' learning?
Robotel launched a study in conjunction with a vocational school system in Saudi Arabia. Ninety-four teachers taught over 5000 students in an intense, four-month English course. Students spent four hours daily in live sessions and were expected to complete an additional three hours on asynchronous activities using the SmartClass HUB and Let's Talk! English curriculum. Let's take a look at the results.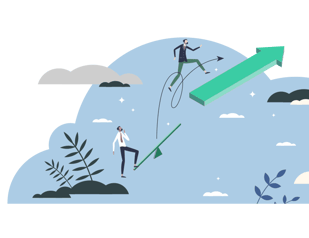 Students that used SmartClass:
- moved up by an entire CEFR level.
- had a strong correlation between their speaking and
reading skill improvement and their final scores.
- had an improvement in their average grades between the start and the end of the semester.
- increased their score by an average of 22.9 points (those who didn't use SmartClass, only increased their score by 13 points!)
Why you should start using SmartClass with your students:
Using the interactive SmartClass platform and digital curriculum will help your students in doubling their learning outcomes while keeping them engaged and motivated.
Students love the variety of activity types, instant feedback on auto-graded assignments, and AI-powered pronunciation practice.
Teachers appreciate the ready-to-assign activities while being able to customize and differentiate activities. They also love that they can focus their grading on speaking and writing activities because half of the curriculum is automatically graded by the platform.
So what are you waiting for? Join thousands of teachers worldwide and start doubling your students' success today!