Why you should say goodbye to traditional publishers and switch to SmartClass
Are you stuck with traditional language teaching materials that you have inherited from former colleagues or mentors? Maybe you did your own research and nothing much came up except the usual textbooks and workbooks from the usual big publishing houses? Is it hard to convince your school board, administrator, or colleagues to maybe try something new? Or do you simply want to give more practice and speaking opportunities to your students while saving time on auto-graded activities?
Saying goodbye to all those traditional publishers might seem scary and you think it is a lot of work, but let me assure you: it doesn't have to be overwhelming, stressful, and complicated. Using SmartClass will be THE game-changer for your language teaching that you have been waiting for!
Some of the issues teachers have with the curr

iculum and platform from traditional publishers:
The textbooks offer great content. However, they do not have an educational technology background. Therefore, the platform is not designed as a digital platform.
Students can do any activity they want with the platform that comes with our current textbook. We, teachers, do not have control over what students are working on or what we want to assign them.
The focus of all activities lies on reading and writing. There are hardly any listening activities and no speaking activities at all on the platform.
The use of the platform is complicated for teachers, and we have no control over the content.
It seems the platform is designed for self-learning, which does not support our interactive teaching model and students can move between modules and units without control.
There is no pronunciation help or practice.
It's hard to use for students.
The platform is not designed for distance learning or assigning homework to students.
We find it difficult to manage teams of students and individuals
It was hard and almost impossible to reach tech support when problems occurred.
Only teachers can use the dashboard of the platform.
We teachers can't change any activity or create our own.
There is no training about using the platform in the classroom.
It doesn't help with saving time because most activities need to be individually graded by us anyway.
Co-teachers for ESL/MLL can't use the platform because it's only focused on the content of the publisher. I wish my colleague could create activities for the language of math and science so my students can practice that as well.
I bet you can all relate to these pain points that other language teachers have had. We have been there too! The curriculum developers, authors, pedagogical mentors, and trainers of SmartClass are all former teachers! We have taken all those points into consideration when developing the SmartClass platform and content.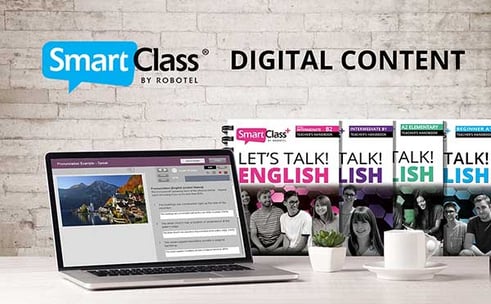 Why you will love this new solution:
The SmartClass platform is a true digital language teaching platform with an integrated curriculum (English, German, Spanish), specifically designed for this platform.
SmartClass follows a simple,

four

-

step philosophy

.


1. Add students




2. The teacher assigns the activities




3. The student does the work


4. The teacher/system provides the feedback/grades the activities
The content is just as good as other publishers' content. Based on the CEFR for language teaching, it includes levels from A1 (beginner) to C (proficient user).
The authentic listening/speaking scenarios equip students with the necessary skills to be 21st-century citizens in a global society and prepare students for real-life conversations and interactions in the target language.
The SmartClass software uses AI-assisted pronunciation that helps students improve their speaking skills and confidence.
SmartClass is easy to integrate into a blended learning approach: Teachers can use a video conferencing platform to interact live with students, and at the same time, use SmartClass to assign activities to students.

Teachers are in full control over the curriculum: Teachers can assign the preloaded activities, modify these activities, and create their own activities on top of that.
SmartClass comes with a full support service for their language lab, which includes project consultation, installation, training, technical support, and continuous improvement of the platform.
The technology framework engages and motivates students.
All files/activities are housed in one place instead of using multiple platforms

Over 50% of the activities are auto-graded. That gives the teacher time to review recordings of their students and it gives students immediate feedback on their work.

Teachers get a handbook for reference with all answers and activities inside. Once they decide which activities they want to assign, they log into their SmartClass HUB platform and assign them to students.
Besides access to the SmartClass HUB platform, students can get a resource book that has everything in it to complete the activities in the platform. (Vocabulary lists, grammar charts, QR codes, conversation worksheets, game sheets, and readings are all part of the student book.)
We truly think that migrating towards this new optimized platform will let you achieve much better results not only in the writing and reading skills portion of your programs but also in the listening and speaking areas.
To find out more, contact one of our product experts today!