How to write a textbook: 15 Tips from 10 successful authors
Thanks to the limitless world of the internet, anyone who wants to publish and share something with the world, can do so nowadays. You can have your own blog, youtube channel, social media account, or website and write as much about any topic as you want. So "publishing" isn't an issue these days, but attracting readers, potential big publishers, and making money off of your hard work might be really tough.
For teachers, who basically create content on a daily basis, there are websites such as teacherspayteachers where they can upload, share, and charge for the content they create. But how do you write an entire textbook or curriculum? Continue reading for some amazing tips from 10 successful textbook authors who have been working on English, German, and Spanish textbooks for years.
1. How to write a textbook - 15 tips from experts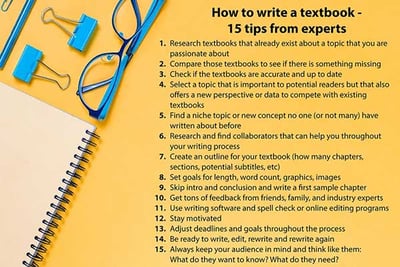 2. Meet 10 successful language textbook authors
In a world of unlimited resources online, we want you to know that you can trust our authors and the materials we put into our digital language teaching platform, SmartClass. The authors of our complete ESL curriculum, "Let's Talk! English," and our German and Spanish speaking and listening textbooks have a strong educational background and have many years of experience teaching (and learning) foreign languages themselves. Not only have they spent years and years creating their own teaching materials and lesson plans, but they also worked with many different platforms, books, and other materials. They know what matters most to teachers and students. That's why they set out to develop English, German, and Spanish content that is already integrated into an engaging platform that helps students develop ALL necessary skills to be global citizens in the 21st century.

Lindsey Klein (English, German)
Lindsey became passionate about learning languages in middle school when all students were exposed to Spanish, French, German, and Japanese. She decided to continue from there with German throughout high school and college where she double-majored in K-12 education and German. She studied abroad, has traveled to Europe yearly since 2006, and has been to many other countries. She went on to teach in the classroom setting for 13 years before becoming a part of the Robotel team. Never satisfied with the textbook options she had for her classroom, Lindsey was constantly writing, reflecting, and re-writing her curriculum for every level of the German language. Only because of this experience was she able to dream up the idea of a full language lab curriculum. This has been a work of passion, experience, and reflection. She wants to change the way students learn a language so that it is more active and authentic where the student is constantly engaged and reflecting on his/her language experience.
Danielle Kempf (English, Spanish)
Born and raised in Wisconsin, in the United States, Danielle knew from very early on that she would be an educator. Both her parents were educators, so being a life-long learner was just in her blood. She did not know until high school that she would pursue a teaching career in Spanish. She adored the language and culture so much that her teachers encouraged her to become a Spanish teacher. She decided to follow their advice and received her teaching degree as a Spanish language educator. She taught for eleven years before joining the Robotel team. What motivated her to join Robotel and create a textbook series was her love of the SmartClass software. Using this software in her own classroom and seeing her students grow in their language ability inspired her to provide for other teachers what she provided for her students through this platform. She now hopes that the creation of a full curriculum in conjunction with the platform will provide students all around the world with a language experience that encourages learning, reflection, and growth.
Erin Swierczek (German, English, Spanish)
Erin's passion for languages was sparked in early childhood when her parents told many stories of their year studying in Japan. Her family hosted a number of exchange students throughout the years, which exposed her to different cultures and compelled her to begin learning foreign languages. She studied Spanish and German in high school and college. In fact, she was a student of Lindsey's, Robin's, and Dede's. Before joining the Robotel team of authors, Erin graduated from the University of Wisconsin-Madison with a B.A. in German and Communication Arts and lived in Germany and Austria. Erin learned about the SmartClass software through Lindsey and knew it would transform the language-learning experience. She feels fortunate to be a part of the content team, train teachers, and help redesign the SmartClass software.
Hannah Haase (English, German)
Born and raised in Germany, Hannah started learning English and French in middle school. After completing her M.Ed. in ESL and history at the Johannes Gutenberg University in Mainz, Germany, she moved to the United States to become a teacher at the Milwaukee German Immersion School. In 2014, she also started at the Milwaukee School of Engineering as a professor of German and European History. Hannah joined the Content Team in 2018 after she had a chance to experience firsthand what a difference the SmartClass software can make for students' confidence, speaking ability, and motivation. Besides co-authoring the English curriculum series, Hanna is now also the lead author of the German curriculum and Robotel's blog. She loves working with a creative team of teachers and professionals that all share and value the love for teaching and learning languages.
Liz Henderson (English)
Originally from Australia, Liz has been working in Hamburg, Germany since 1994 as an EFL teacher and translator DE-EN. Liz concentrates primarily on business English and preparation courses for the Cambridge FCE, CAE, and CPE exams. She has also done occasional voice-over work and has recently branched out into intercultural communications training, as she wanted to give her business English students not only "correct English," but "interculturally correct English." Liz has a Bachelor of Business from the University of Queensland, a Diploma in English Language Teaching to Adults from the University of Cambridge, and a Certificate as an Intercultural Communications Trainer from LTS, UK. Liz joined the Robotel team in 2019 and is thoroughly enjoying the collaborative teamwork and contributing to such excellent teaching material.
Chelsea Frazier (English)
Born and raised in beautiful Minnesota, Chelsea Frazier's love of English began with the stories her parents read to her as a child. Her interest in the world was sparked by lots of travel and a succession of wonderful exchange students. She graduated from the University of Wisconsin-Madison with a Bachelor of Arts degree in history, political science, and international studies as well as a certificate in European studies. After studying abroad in Prague and falling in love with the country, she got her TEFL certificate from the Midwest Teacher Training Program in Madison, WI. She moved back to the Czech Republic (and eventually on to Slovakia) and began her career in education by teaching English to young children. Chelsea currently lives in Southern California and teaches adults from countries all over the world. She joined the Robotel team in 2018 and is thrilled to finally collaborate with people who appreciate her grammar jokes. If you would like to see Chelsea teach grammar, check out her videos below!
Dede Paquette (English)
Dede was born in northern Wisconsin at the tip of Lake Superior where the wind is cold, and the woods are beautiful. She worked as a writer and editor for a publishing company during the early years of her career, but she soon traded the corporate ladder for the classroom and started a 30-year career in education. Over the course of that career, she has taught at the high school, technical college, and university levels all over the state of Wisconsin. She has taught courses in business, computers, composition, and literature. Believing in the transformative power of education, she has continued her own learning by earning graduate degrees in education and professional writing. She recently moved back to those beautiful, serene woods of northern Wisconsin where she is continuing her teaching career at two technical colleges and collaborating with the Robotel team.
Robin Tessereau (German)
As a 16-year-old summer language school participant in Austria, Robin was fascinated by the experience of speaking with and understanding people using words and sounds that were completely different from her communication

skills up until that point. It was somehow quite magical that these "foreign" sounds exchanged between individuals created meaning. That experience forever opened her eyes to the world beyond her own backyard in Illinois and changed her life. She had been hooked by the lure of learning languages.

Robin completed her university studies in German Language & Literature Education and the Russian language in Illinois and West Berlin, Germany. Having taught both at the high school level and in a German immersion elementary school, she was selected by the "US Department of Defense Dependent Schools at the European Command Headquarters" to teach in their German immersion program in Stuttgart, Germany. Since retiring from active teaching, she is involved in various educational activities, including collaboration on this exciting approach to language learning in the SmartClass textbook series.
Carmen Garcia Sirera (Spanish)
Carmen is a native of Barcelona, Spain, and first came to the United States as an exchange student in high school. She holds a Bachelor of Science in chemistry from the Michigan Technological University. After working in the science field for eight years, Carmen decided to change careers and started as a professional tutor for Spanish and Math in 2004. From 2007-2017, she also worked as a Spanish and math teacher at a Waldorf School in the Milwaukee Area. Besides still tutoring and editing, Carmen currently also works at a bilingual school. She especially enjoys teaching Spanish because the language functions as a social tool connecting cultures. Writing SmartClass Content is a way to provide that connection to others.
Joseph Fricano (Spanish)
Joe loves working on this project with SmartClass because it has allowed him to use skills he has been blessed to develop over the last 25 years. His language journey began a few years after he started taking Spanish in high school when he had the opportunity to work in Mexico for a summer. That experience was a springboard to studying abroad in Spain and working in Panama. He was a Spanish major and has had a career for almost twenty years teaching Spanish, ESL, and training language teachers at the graduate and undergraduate levels. He has also been a writer for many years, publishing various community magazines. Working on this project and collaborating with the Robotel Content Team has been very rewarding because of the exceptional people on the team, and because he knows it will help people strengthen their language production and comprehension skills, the benefits of which are priceless.