Whether you saw our name mentioned on Facebook, met us at a conference, or heard about us from other users, we are happy that you have decided to see what Robotel SmartClass can do to teach and learn a foreign language.
Now that you have said yes to SmartClass, below are the stages that your order goes through and what you can expect in the following days. We are committed to providing you with a smooth journey as you begin exploring SmartClass and implementing it with your students, and we will be there throughout the year to make sure you feel confident and supported.
1. Validation: This is when your payment is processed, and your account is created in our system. A message will then be sent to our fulfillment department, which will package and ship any SmartClass materials that you purchased, whether it be Teacher Handbooks, noise-reducing headsets, or student books.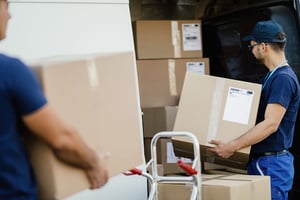 2. Installation: This stage is dependent on your purchase, whether you are installing on a local database or using our web version. We also need to confirm the information on your IP address and if your internet network will grant permission to use different SmartClass features like Artificial Intelligence. If you purchased SmartClass LIVE (our traditional language lab solution), this stage requires a couple of hours of coordination with your technology department to make sure that the teacher's computer correctly connects to the student stations. This all may sound complicated, but our Service Team is very knowledgeable and happy to help get your computers ready for use.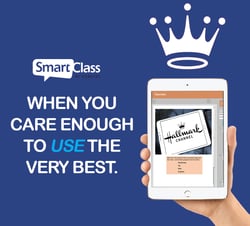 3. Confirmation: This is when you receive an email that lets you know that validation and installation are complete and you are ready to access your SmartClass HUB. The email will summarize your account information and give you information to access your SmartClass account (usernames, passwords, and teacher and student links). The bottom of this email would alert you to the next step if you purchased training with a SmartClass trainer. If you did not purchase training, you have free 90-Day access to Robotel Academy until the end of 2022. After that, access to the Robotel Academy will be subject to a charge.
4. Registering and Scheduling Training: If you purchased training, your next email would ask you to register all teachers taking part in the training using a unique code provided in the email. This lets us know how many trainees to expect and helps us to make sure we have accurate contact information. After registering, you will be prompted to schedule with your assigned trainer a date and time that would be convenient for training. Each training session details different aspects of the SmartClass HUB and also discusses our content and how teachers can create their own activities in the HUB.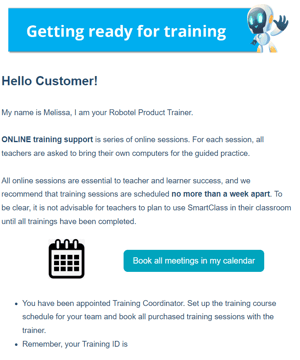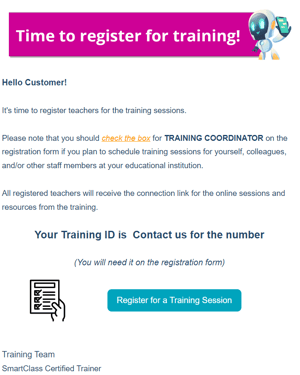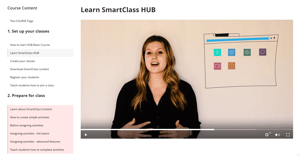 5. SmartClass Academy: If you did not purchase training, you have free (until the end of 2022) access to SmartClass Academy, our online, self-paced training program to help you learn the ins and outs of SmartClass. You will receive an email asking you to register and begin learning how to set up classes, invite students, and assign activities. Since there are some important details to success, we recommend that teachers progress through the Academy in three weeks. A trainer is also on deck and ready to support you throughout the course.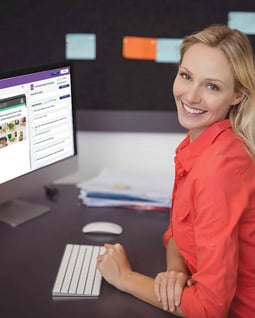 Once training is complete, you are ready to begin using the SmartClass platform with your students.
Our Customer Success Team is always there to help with any issues with technology, and our trainers are always happy to help with any questions or support needed to achieve success. You will receive emails throughout the year to check in and survey your feelings about your experience. Your feedback is important to us as it informs us of your needs and allows us to provide you and your students with a positive and rewarding experience.