Why SmartClass should be used in every language classroom
It is hard to imagine language teaching without the help of technology these days.
There are many apps, websites, programs, and online resources available for teachers and students, but it is hard to decide which ones are worth using and which ones are not.
If you are looking for an all-in-one language teaching solution that does not replace you as a teacher but rather supports you in bringing your students to the next level of language acquisition, SmartClass might be exactly what you need!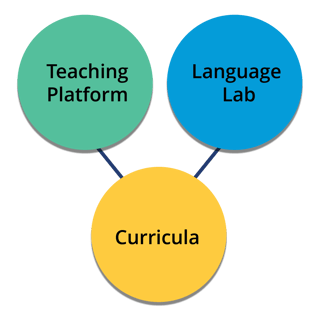 SmartClass is THE language teaching solution!
The SmartClass Hub is the core of the solution, offering a great platform for teachers to create, assign, and grade activities.
Depending on their needs, teachers can add the digital SmartClass Live language lab, which can be customized to their schools' needs (say install vs. cloud-based, computer stations vs. BYOD and so much more.)
Best of all, SmartClass also offers content/curricula with over 4,800 activities, ready to be assigned to students. The curricula were designed by language teachers and are available in English, German, Spanish, and Arabic.
Not convinced yet? Take a look at some of the key benefits SmartClass will offer you, your students, and your institution.
Individualized Instruction

: SmartClass allows teachers to provide individualized instruction to each student.

Students can work at their own pace

and

focus on their specific needs and weaknesses

, without feeling pressure from the rest of the class.

Practice and Repetition: Repetition is key to language learning and the SmartClass solution provides the perfect opportunity for students to practice and repeat language skills. They can listen to native speakers, practice pronunciation, and work on vocabulary and grammar skills.

Enhanced Technology: SmartClass offers the latest in language learning technology, including multimedia tools, interactive software, and artificial intelligence. These tools help students understand and engage with the foreign language in a more interactive and dynamic way.

Increased Motivation: By providing students with a fun and interactive learning environment, SmartClass will increase motivation and engagement. This leads to higher levels of student participation and achievement.

Improved Listening and Speaking Skills: SmartClass provides an opportunity for students to listen to native speakers and practice their speaking skills. This helps students develop a good ear for the language, as well as the confidence to speak it themselves.
If you are looking for a meaningful way to incorporate technology into your language teaching and to get your students to speak in the target language, SmartClass is all you need. It offers a range of benefits, including individualized instruction, practice and repetition, enhanced technology, increased motivation, and improved listening and speaking skills.
If you would like to find out more about the SmartClass language teaching solution, how to implement it, or get a demo of how it works, submit a comment below or contact our product experts!