Why Nicolette and her colleagues love teaching with SmartClass
With over 10,000 installations worldwide, SmartClass is a leader in language teaching technology. But don't just take our word for it. Let Nicolette, project manager for Assrooh Athakiyah and TVTC in Saudi Arabia, tell you why SmartClass is the solution for your school and institution.
Nicolette and her colleagues have been teaching with SmartClass daily for the past two years. Over 5000 students and 50 teachers use the SmartClass platform and English curriculum every semester and it's proven to double the students' learning outcomes and test scores! Nicolette was excited to be able to share her experience and inspire other teachers to start teaching with SmartClass.
1. What do you like best about the SmartClass Teaching Platform?
"We love the various ways in which SmartClass can be used, both inside and outside of the virtual classroom. In particular, activities similar to those that are used in class during a teaching moment, or to gauge student understanding of a particular language skill or topic can then be assigned to students to work on autonomously. More so, teachers are able to track the progress and understanding of their students, as well as provide meaningful feedback to students via the platform itself. Students are then able to individually reflect on their progress and performance and become more self-aware, possibly identifying the language areas they wish to put more time and effort into with a view to improving as their engagement with SmartClass progresses."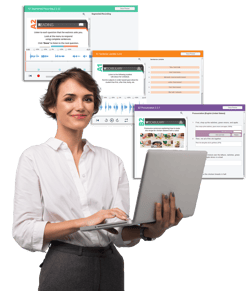 2. How has SmartClass changed and improved your teachers' language teaching?
"SmartClass has given our teachers access to a significant number of activities and topics of interest across varying levels of English proficiency and with respect to key productive and receptive skills incorporating key vocab and grammar concepts alike. The structure and design of the platform has allowed teachers to conduct meaningful and insightful lessons, without the need to limit their session to teaching a single skill. Incidentally, this has also inspired teachers to introduce other useful and creative resources, games, and class discussion topics that relate to the core SmartClass material, and those that they have identified as suiting their students' needs.
In addition to the e-platform, teachers have access to the comprehensive teacher guide, which allows them to prepare for more challenging teaching segments (such as grammar) and have a holistic view of current and upcoming chapters that their students will encounter over the weeks. Backed by these resources, teachers who have really engaged with SmartClass as a key teaching tool (for themselves) and as a key learning tool (for their students) have proved to be more confident in their teaching, gaining the trust of their students accordingly. Needless to say, this allows for an efficient and productive teaching and learning environment overall."
3. What do your students enjoy most and how do they benefit from your use of SmartClass?
"Students enjoy and appreciate the relevant and interesting topics from the material they encounter in a single semester (i.e., our students are exposed to both their placement level material and material from one level higher). They enjoy speaking about topics in relation to their own lives and experiences (since speaking is a key focus in our course). However, they also tend to enjoy supplementary activities such as reading. This also keeps them engaged and many are motivated to challenge themselves, especially when volunteering to read a paragraph of a text to practice/showcase their pronunciation and fluency and/or answer questions about a text to show their understanding when amongst their peers."

4. Why did you decide to start using SmartClass over other digital platforms and curricula?
"SmartClass, to us, is an incredible teaching and learning tool, in that native English facilitators from various countries and walks of life are able to use it in line with their discretion and varying teaching styles, yet assist students across the country (with varying degrees of English proficiency levels) in obtaining a standardized set of language objectives aligned with our course."


5. How has our English Curriculum changed and improved your students' language learning?
"As mentioned, one of the main aims of our course is to help students improve their speaking / communicative English. For this reason, many of our weekly assessments are internal speaking tasks that we have based on grammar, vocab, and general topics from each level, and which are more or less in line with each SmartClass chapter being taught as the weeks progress.
The SmartClass English Curriculum has allowed us to do this with ease, especially because our students also have an interactive platform to practice outside the virtual classroom (e.g., pronunciation and recording activities that they are assigned for homework on SmartClass). In this way, they appear more confident with various language and grammar concepts that are relevant to the content and speaking assessments that they encounter each week."

6. Why would you recommend the SmartClass Teaching Platform and Curricula to other schools and institutions?
"It is cost-effective, versatile, and well-suited to our online program, yet we are confident that it would work just as well in a face-to-face / blended learning environment. It consists of well-thought-out features such as admin permissions to assign activities as and when teachers would like students to supplement content taught on a particular day/in a particular week. It allows for tracking of progress and performance in a simplified manner, consolidating all key data by means of a single usage report."

7. In what way has your use of SmartClass improved your institution/school?
"It has allowed us to conduct our remote intensive English course with ease, serving as a reliable/trustworthy key resource on which all our classes, supplementary teaching material, and assessments are based. It has further allowed us to track teacher and student progress alike to ensure that we keep improving in all aspects. In addition, we enjoyed working with a wonderful, expert team at Robotel, who have offered continuous support and insight since we first implemented SmartClass in 2021."