Back to main Blog

Hannah Haase
Born and raised in Germany, Hannah started learning English as a Second Language in 5th grade and French in 7th grade. After completing her Master's in Education, ESL, and History at the Johannes Gutenberg University in Mainz, Germany, she moved to the United States to become a teacher at the Milwaukee German Immersion School and a professor at the Milwaukee School of Engineering. She is now a content creator, blog author, and pedagogical mentor at Robotel.
In a world where "globalization" and "cultural diversity" are becoming part of our daily lives, it is easy to understand why learning a second language – or even a third language – is becoming increasingly important. The best way to learn a new language is to move to a foreign country where the target language is spoken and immerse oneself in the local culture. Alternatively, one might hire a one-on-one expert tutor.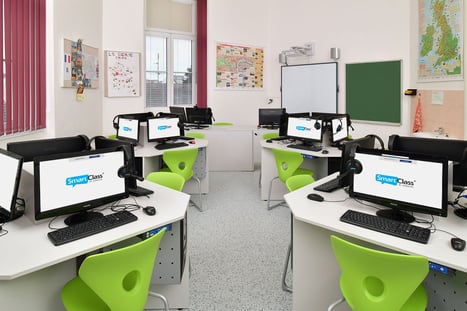 How can YOUR classroom become an immersive environment?
For most of us, and certainly for most students, these options are luxuries that are economically unattainable. The reality for most schools is that language teachers must work with classes of 20 to 30 students – or even more. Statistically, in such an environment, each student speaks for less than 20 seconds for every hour of class time.
Learning a second language is very much like learning to play a musical instrument. There is certainly merit in studying the theory, but the major way to improve language skills is through practice. The more a student practices, the more proficient he or she becomes.
Speaking for only 20 seconds per class cannot possibly develop a student's language communication skills.
Technology Amplifies Opportunities for Communication
So, how can educators overcome these conflicting needs for larger class sizes and more student-speaking practice?
Progressive schools are turning to technology to help teachers manage their classes and assure that their students have sufficient opportunities to practice and hone their listening and speaking skills.
Language learning platforms enable teachers to assign in-class activities, such as pairing and recording, where all students are able to speak concurrently. And self-study recording activities can also be assigned as homework to further increase practice time.
If students participate in these activities for only ten minutes per class, this is already more than a 30-fold improvement over the statistical speaking limit of 20 seconds per class!
Student-Centric Learning Model
Twenty-first-century educators are embracing a student-centric approach to learning. This approach incorporates the following characteristics:
Student-centered instruction
Multi-sensory stimulation

Multi-path progression
Multimedia delivery

Collaborative work

Information exchange

Active/exploratory/inquiry-based learning

Critical thinking and informed decision making

Proactive/planned response

Authentic, real-world context
International Society for Technology in Education (ISTE) & National Educational Technology Standards (NETS)
"Multimedia", "Collaborative work", and "Authentic, real-world context" are in fact the key capabilities that we use to describe a modern digital language lab. These capabilities are highly motivating for today's tech-savvy, iPad-toting students.
Immersive Language Learning Activities
Before exploring our options for deploying a language lab, it is important to first consider the types of activities that a teacher might need to assign to their students.
Student activities generally fall into one of two categories; synchronous (or "live"), and asynchronous (or "self-study"). At the university or adult learner level, the focus might be exclusively on self-study, while at the middle school or high school level, there is often a blend of live and self-study activities.
Live Activities
Live activities are generally done in class and are managed by a dedicated control panel at the teacher station. Activities might include: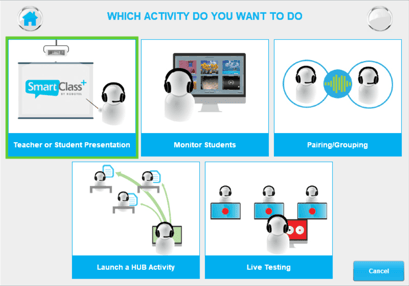 Teacher presentation

Model student presentation

Remote monitoring of student audio (and webcams)

Remote viewing of student screens

Student pairing/grouping (with recording)

Live Testing (including AP and GEPT)
Self-Study Activities in a Language Lab
Self-study activities are self-contained exercises that students can complete on their own in any sequence. They are generally prepared in advance by the teacher and are assigned to students to work on in class or as homework. These might include:
Open audio recording (no time limit)

Segmented recordings (repeat after me)

Simultaneous audio recording

Open video recording

Simultaneous video recording

Open text

Question and answer

Multiple choice

Fill-in-the-blanks
Matching and jumbling activities
What does a 21st Century Language Lab look like?
Fifteen years ago, most language labs used a dedicated room, desktop computers with headsets at each student position, and a master control console at the teacher position.
Many language labs still use this same configuration, however, with the technological advances made over the past 15 years we now have the flexibility of implementing a language learning platform in almost any environment. Consider the following relatively new technologies:
WiFi wireless networking

Tablets

Smart phones
The combination of these new technologies means that both student and teacher workstations can be completely portable – and not tethered to a specific room. Today, we see a growing number of cart-based portable labs.
We also see a migration toward BYOD (Bring Your Own Device) programs, where students and teachers bring their own workstations to class.
And we see 1-to-1 programs – where each student is issued a tablet or a laptop upon enrollment.
A 21st century language learning platform embraces learning at any-time, from any-place, and on any-device.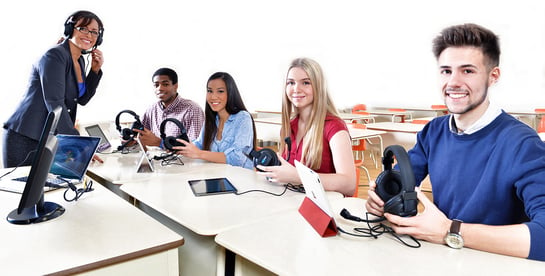 Robotel offers a product with all of these features described above. Our SmartClass LIVE allows teachers to maximize students' speaking time and provides an immersive language learning environment for classrooms around the world. Contact us to learn more!