Back to main Blog

Melissa Arndt
Born and raised in Wisconsin, Melissa majored in elementary education with a minor in German. She taught at the Milwaukee German Immersion school for 16 years before joining Robotel as a trainer and content creator.
What do all great language teachers have in common? They are all teaching with technology! They are als looking for a solution to provide more speaking and listening opportunities to excite their students as they learn a new language. They all care and are ready to go the extra mile for their students and to ensure they are preparing them to be citizens of this 21st-century world.
Outside of that, language teachers are teaching in very different situations and utilizing a different technology to boost their teaching and student engagement. They are not all in front of students in a classroom. They do not even have students who all speak the same language. As a SmartClass trainer, I have heard many interesting stories, and I'd like to share about some of the teachers who have found success with SmartClass and their unique learning environment.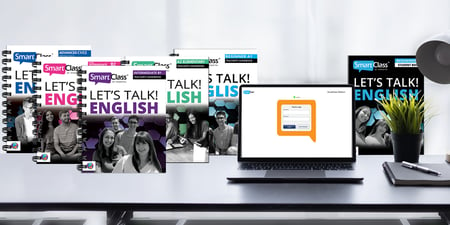 Teacher #1: My first training ever was with a teacher at a virtual trade school with students from around the world. SmartClass was purchased to first teach the students English using our content.
After the students had reached proficiency, the teacher would then use the HUB to create activities to teach the vocab and concepts related to the trade. I was blown away by this situation. This being my first training, I was expecting a traditional classroom. There is nothing traditional about this learning environment, and I find it amazing that SmartClass is such a versatile solution and teaching with technology can be so fun!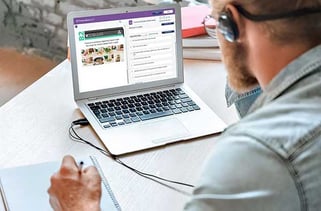 Teacher #2: One of my latest training sessions was with a tutor. No classroom. No district chosen textbook. The tutor was looking for a way to provide more opportunities for students ranging from middle schoolers to older adults to interact with the language from home. While the content would be used for certain students, this tutor planned to create other activities geared towards relevant vocabulary for each student. Way to go to the individual who sought out a new resource on his own and will make a difference in the learning experience for his students! Teaching with technology for the win!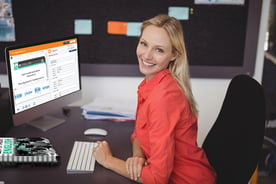 Teacher #3: I had the pleasure of training an ESL teacher who got 12 new students in her class this year from other countries. When I taught in an immersion school, we could not accept new students after a certain grade level. I could never imagine teaching such a mixed group and being challenged to find a way to unite them in learning. The SmartClass HUB will allow her to duplicate activities and include instructions in the language of the individual students. What a great way to have the class all do the same activity but tailored to the needs of the students.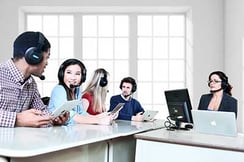 Teacher #4 This teacher is a foreign language teacher in a not optimal setting. The school building is undergoing renovations, so, in the meantime, teachers and students are in an open space that used to be a store. The space does not have dividing walls to block sound from other classrooms. Could you imagine being able to hear instruction going on in other rooms and not being able to focus on providing enriching speaking and listening opportunities? This is where SmartClass LIVE can be such a great resource! The amazing noise-canceling headphones with the microphone that is directed purely to the individual speaker will allow students to work in groups, record activities without background interference, and allow the teacher to access student listening and speaking abilities more effectively.
No matter where you are, what grade level you teach, or what your teaching and learning environment looks like, teaching with technology is a MUST and SmartClass has something to offer you. We are proud of our rigorous content. We are delighted to offer a platform that allows for adaptations to activities to meet students' needs. The HUB platform is also a workplace for teachers to create additional activities as the need arises and makes grading and feedback more meaningful. SmartClass LIVE allows more opportunities for students to work together and teachers to evaluate student skills. SmartClass is like the "one size fits all" solution to language teaching, and we would love the chance to show you what SmartClass can do to transform teaching and learning.
Melissa Arndt
Language Teacher, Trainer, and Content Creator