Nexus Arabic and SmartClass: Teaching Arabic just got better!
In Arabic, there are 11 words to express the word "Love", so teaching such a language is a great mission. Nexus Arabic and SmartClass by Robotel embraced that mission to show the beauty of the Arabic language the way we love it.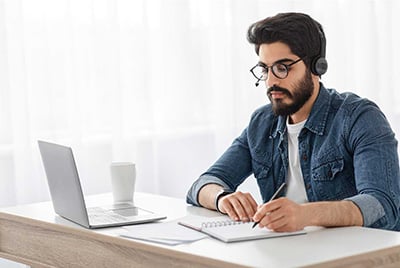 Why Teach Arabic as a Foreign Language?
We have always had a genuine interest in the Arabic language and, in the past few years, we started to see more interest and demand to learn Arabic as a language for speakers of other languages.
According to the British Council report in 2017 on Languages of the Future in the U.K, Arabic scored the fifth rank among the most needed languages. The report details different driving motivations to learn Arabic, ranging from trade, tourism, diplomacy, and security to faith and migration.
Arabic is spoken by about 450 million people globally of which about 230 million speak it as a second language. This relates to the fact that Arabic is the language of the holy book for Muslims, the Quran.
Modern Standard Arabic vs. Dialects
When we started developing our Arabic curriculum, we were faced with the typical question when it comes to learning Arabic: "Should we teach Modern Standard Arabic or an Arabic dialect, and if a dialect, which dialect/s?"
We believe that this will be an ongoing question, as the need is there for both Modern Standards and dialects of Arabic. However, we strongly believe that the way to learn a language is through the traditional four language skills: Reading, Writing, Speaking, and Listening. To learn a language and progress through its levels up to the upper advanced level, learners need to read and write the language and there is no learning in dialect for reading and writing. Therefore, we chose to develop our content using Modern Standard Arabic.
Modern Standard Arabic is understood across all Arabic-speaking countries and even though the local dialect may differ, with supportive learning, live speaking, and listening sessions, it is possible to get the benefit of both learning Arabic in a structured mode, as well as using the dialect if needed with small specific support.


The Arabic Content and the SmartClass platform
The Arabic content you will teach through SmartClass is developed by Nexus Learn Arabic which specializes in developing Arabic language learning content for eLearning platforms.
Our Arabic Content was structured and planned by native Arabic teachers, academics, media editors, and project managers. The whole team had been chosen of those who have genuine fondness and love for the beautiful Arabic language.
We followed the Common European Framework of Reference (CEFR), as it provides a very clear frame to teach a language and definitions for different learning outcomes related to different language levels.
Unlike many Arabic language courses, our Arabic content was not adapted from textbooks used in Face2Face classes but rather developed specifically to be learned through the SmartClass Hub e-learning platform.
With the brilliant tools and capabilities that SmartClass offers to learners and teachers alike, Nexus Learn Arabic worked closely with Robotel to develop the Arabic language content specifically for the tools within the SmartClass platform.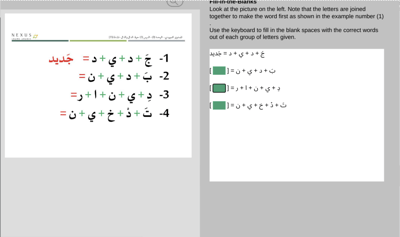 When we started, we looked at the needs of learners, and with careful analysis of different methodologies and curriculums provided to teach Arabic to non-native speakers, we completed a full revision and curriculum consultancy project to conclude with an Arabic language framework, learning outcomes, and language skills matrix.
Diversity of resources and planning was core to our framework as the Arabic language spreads over a wide geographic region. Therefore, the team also included experts from at least 5 countries with a focus on non-native Arabic speakers.
The Arabic language reflects a diverse culture that shows the beauty of calligraphy and traditions (such as food and music) that we have carefully worked into the content.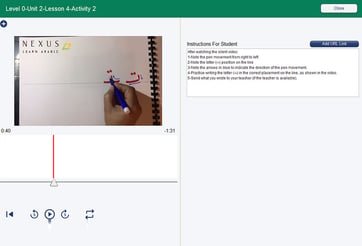 Teaching methodology
With a very wide vocabulary in Arabic, we needed to focus on our teaching methodology.
We based our approach on proven methods that have been tested in language schools for decades and evolved around the phonetics of Arabic letters and words. Therefore, our content has more activities focusing on listening and speaking skills. This meant we had to use lots of audio and video files in our content to help learners perfect these skills.
That also meant we needed a skilled team that can show the beauty of Arabic words. Therefore, we produced great videos for calligraphy of Arabic letters and words as well as hired great voices to read Arabic letters, words, and even poems.
There is a variety of activities we used to teach Arabic within the SmartClass language teaching platform: including pronunciation practice, segmented recordings, auto-graded quizzes, and lots of viewing and repetition activities.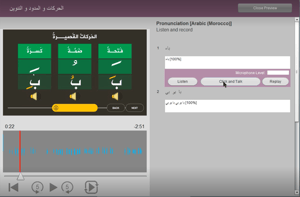 Contact one of our product experts today to find out more about the 900 beginner activities that SmartClass is now offering for teachers, schools, and institutions all over the world, and start teaching Arabic in an innovative and engaging way!