How does SmartClass size up to common curricular requirements?
The SmartClass L2 instructional and learning platform/content is cutting-edge software fused with a theoretical grounding in ACTFL's & WIDA's Language Proficiency Guidelines. Many teachers and administrators who oversee World Language and English Language Learners have similar questions when vetting new resources and platforms. There is a lot to choose from, so selecting the best-fitting content and software to leverage student L2 gains is crucial. This is a lot of pressure on teachers or administrators who are allocating funding for instructional resources. In the following article, ten of the most commonly asked questions posed by educators who are vetting new resources are addressed. Let's take a look.
Concern #1: PRICING: Even your most basic offering [no video or group work] is over $2/student.
The teacher platform is free with all the loaded activities and content. All activities include videos, audio files, authentic readings, and interpersonal, interpretive, and presentational speaking assessments for students. The platform, for 12 months, per student, is $25.00*, which is $2.10 per month (Spanish & German). For our full ELL curriculum, the platform and content are $45.00* per student per year, just $3.75 per month per student. The bundle student resource packet for our ELL curriculum and platform is $67*, around $5.60 per month per student.
*All prices are direct sales for the US. Please contact a product expert for customized quotes for your school/institution.

Concern # 2: DATA STORAGE: Do you store any data?
Robotel SmartClass provides districts with two options for their data storage.
Option one: We create a unique cloud for your district where data is stored.
Option 2: We allow school districts to store their data on their local servers. The option is up to you. We are a completely web-based product, accessible on any device.

Concern #3: FERPA NON-COMPLIANCE: It also doesn't look like you integrate with Schoology or Clever.
We have the capability to integrate with Schoology, PowerSchool, and BlackBoard and are in complete integration with Google for Educators.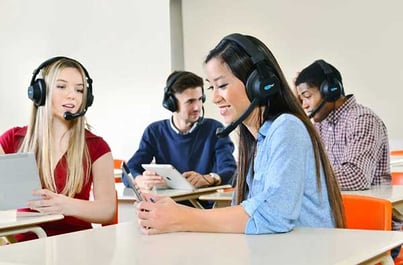 Concern #4: VIDEO RESPONSES/LIVE GROUP ROOMS: These options are only available with your SmartClass LIVE solution, which appears to be much more expensive than your base offering.
In our $25/$45 subscription, students are able to view videos at their own pace with full control and respond to a myriad of questions: open-ended, short answer, multiple choice, fill in the blanks, drag and drop and even record their responses.
Live group rooms can be run in conjunction with our platform depending on how the teacher sets up the activities via a secondary platform. ie. The teacher could place students in breakout rooms via google meet/zoom while having students collaborate on the same activities she/he has assigned on the platform.

Our Language LIVE software is an option for teachers to create a Lab scenario in their classrooms where teachers are able to deliver instruction, pair students up within our software (eliminating a second-party platform), record student responses while paired during interpersonal activities, and have students present their L2 skills to entire class through our LIVE language option. Once purchased, the LIVE software is yours. It is a one-time purchase and is sold per reusable seat. Schools usually purchase 30 seats x $274. This means that multiple classes of up to 30 students can sign onto the software throughout the school day and experience our LIVE language L2 solution. This is truly a university experience for L2 learners and one I leveraged with my high school students all four years of high school to prep for AP, ACCESS, and Seal of Biliteracy.
However, our $25 student subscription also simulates comparable testing conditions. The LIVE option is a ONE-TIME PURCHASE and is maintained thereafter by way of a valid yearly service maintenance agreement with our IT department at a very reasonable price. Please see our prices or book a meeting for more information.

We have a comprehensive Usage reporting system that monitors student progress across all four language domains (speaking, reading, writing, and listening) as well as all three language modalities (interpersonal, interpretive, and presentational). Teachers are able to set individualized learning targets for each student, and students are also able to see their progress and areas of growth.

Concern # 6: Is there a centralized location where we can house/store all of your district-specific content [your curriculum tasks/activities/IPAs/etc.]?
Yes. The teacher has a robust platform where all of our content and their own / district-authored content are stored... for free!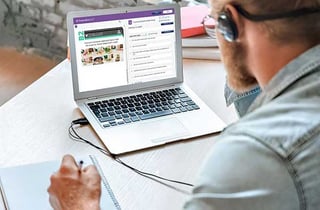 Concern # 7: What type of student accommodations do you offer [think IEP needs]?
Each of our activities can be duplicated as many times as needed, therefore allowing the teacher to level our content up for those students who excel at a faster pace while also permitting the teacher to take the very same activity and implement the necessary scaffolds and supports to individualize instruction for students who may need modifications per their IEP goals.

Concern # 8: What features do you have for increased academic integrity [specifically for exams]?
All of our content can not be copied by the student nor pasted into google translate.

The teacher can block other applications while students are working on our platform

The teacher can also set a timer to simulate timed assessment conditions and foster test-taking/pacing skills.

Through our LIVE option, the teacher can take control of the student's screen, chat with the student, show the student's screen to the class as an exemplar, block applications, simulate AP testing conditions by launching live recordings, and much much more.

Our usage reporting/progress tracking system allows teachers to monitor how long students spent on activities and how many logins each student engaged in while completing activities.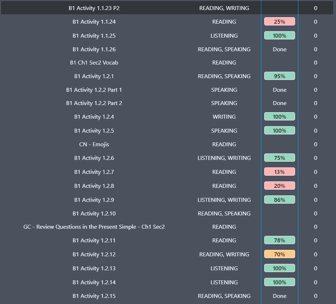 Concern # 9: How do you conduct an IPA/common assessment with your product?
If your department has common assessments, Unit assessments, or has developed its own IPAs, these can easily be loaded into our platform and formatted to your assessment style needs. Also, these assessments can be auto-graded (as our system allows for the option of auto-graded activities and more than 50% of our own content is auto-graded), or sections of the assessments can be traditionally graded on an individual basis, i.e., open-ended responses, short answer responses, segmented recordings, and open recordings.

Concern # 10: Is it 100% aligned with ACTFL Proficiency Standards? WIDA Language Function/Proficiency standards? TEKS? Can each of your activities and assessments be grouped under the Interpersonal, Interpretive, and Presentational Modes?
All of our activities and assessments can, in fact, be categorized within the ACTFL, WIDA, or TEKS framework, leveraging the three L2 modalities of interpersonal L2 skills, interpretive L2 skills, and Presentational L2 Skills. I might also add that our platform fosters receptive L2 skills as well as productive L2 skills.

There is so much more to Robotel's SmartClass L2 instructional and learning platform/content. However, the crux of choosing the perfectly aligned platform and content that is user-friendly for teachers and students provides immediate feedback for student reflection, and, above all, was created for teachers by teachers truly makes SmartClass stand out from the crowds of curricular resources. When vetting a new resource, one has to ask herself/himself/themself: Will the juice be worth the squeeze? Will introducing SmartClass to my teachers and students be embraced, or will there be pushback? Trust me, this is the cutting-edge option that will be easily embraced by language departments and, most importantly, yield high student gains.