If you are trying to learn or teach languages in a fun and engaging way, this article is for you!
I love using games and lots of hands-on activities with my students! It's such a great way to break the ice and involve all types of learners.
The following game examples are all in English, but you can play these in any language. Many of these I simply translated to use in the German courses I taught.
Language learning games explained in this article:
1. General hands-on activities
2. Vocab Master
3. Marker War
4. Bingo
5. Verb Puzzle
6. Mystery Person
7. Tic-tac-toe
8. Team Trivia
1. General hands-on activities
These include role-playing, any kind of partner or group work, projects, debates, cooking, baking, sensory boxes, walking stories, relay races, experiments ... you name it.
There are endless possibilities and a lot of things can be turned into a more kinesthetic activity.
Games are the best though, in my opinion :)
2. Vocab Master

One of my favorites is Vocab Master. I have cards for my students with one vocabulary word on them. They have to explain that word without saying the word or any other part of it. So if the word is "back yard" they can't use "back" or "yard". I also put two extra words on the card. For my beginner students, those are words that help them. For my advanced students, I tell them those are additional words they CAN NOT use when explaining the term. So for this back yard example, I added the words "house" and "front yard". I love doing this because the activity can now be differentiated according to the level you are teaching.
3. Ma

rker War
Students get a sheet with a lot of expressions, words, and phrases on them, and everyone gets a marker. Students work in pairs on one sheet and try to mark the words I, the teacher, say before the other partner does. They then mark that word with their marker. In the end, the winning partner is the one who has the most words marked.
This game really gets students excited! Besides playing this game with phrases, I also like telling stories or reading something where the students now have to find words from what they hear on their sheets.

4. Bingo
This is similar to Marker War, but the students play on their own. I have some prefilled Bingo sheets, but sometimes I like passing out some plain sheets where students have to fill in the words from a category. For example, if we are practicing "classroom commands", then the students decide which word goes where on their sheet. Then, every time I say one of them, they mark it on their sheet. The first one to get 5 in a row, wins.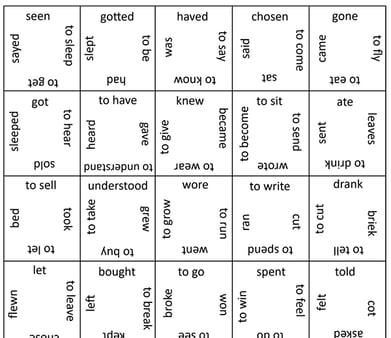 5. Verb Puzzle
Here is another little game I like. Students have to cut out the squares and then reassemble the puzzle matching the infinitive of verb form with the correct simple past form.
6. Mystery Person and Tic-tac-toe
Mystery person is a fun game where they have to describe someone without giving the name of that person. Tic-tac-toe is a well-known game you can turn into a grammar review without your students even noticing it!
7. Te

am Trivia
This is my all-time favorite! It is similar to Jeopardy where there are different categories. Within each category, the questions go from easy to difficult.
This game takes a lot of preparation, but once you have created it, it's super fun to play over and over with different groups of students.


These are only a few examples of the games I like to play with my students. They are nice ice breakers, warm-up activities, or a great way to finish up a lesson or unit on a specific topic. Feel free to download the sample game sheets and if you are interested in learning more about a textbook that already has all of these created for you, click here!