How to implement a digital language lab at your school
With modern technologies, there is a wide range of options for implementing a digital language lab.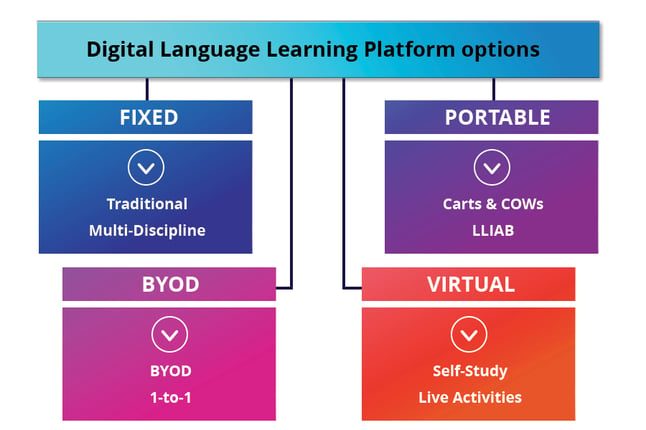 Here are the most important questions/steps you need to figure out before implementing a digital language lab at your school:
1. Who is on your Language Lab project team?
4. Which content will you use?
5. How can you finance a digital language lab?
6. Training teachers and managing expectations
Let's take a look at all of these questions individually and give you all the info you need.
1. Who is on your Language Lab project team?
If your school is considering the acquisition of a new digital language lab and learning platform, the first step is to assemble a team of project personnel who will research and evaluate the various options. Successful language lab project teams generally include representation from:
Language teachers

IT personnel

School administration

School district or school board (depending on the project scope)
It might also be helpful to enlist teachers from other schools or districts and ask them about their procedures and useful tips. There is no need to reinvent the wheel. Others have gone through the process and they might be able to tell you which setup worked for them and why.
2. Requirements
The next step is to identify your requirements for the new digital language lab platform, which will be extremely important in getting all of your teaching staff to actually use the system.
Focus on your top 10 requirements, and be very specific and detailed in identifying what you want.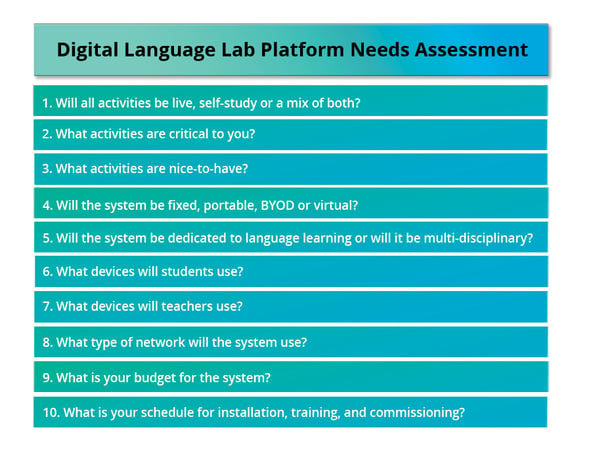 3. Language lab options
Fixed Room - Traditional
Even though we now have a myriad of options for language learning spaces, the traditional, dedicated-room language lab is still the most common environment being used in schools.
Fixed labs offer greater flexibility for platform configuration, as stations can use hard-wired network connections and even a hard-wired intercom for the best sound quality.
Fixed Room - Multi-Discipline
Multi-discipline labs are fixed labs that teachers use for languages and other subjects. The lab might be used for Math at 08:00, for Spanish at 09:00, and for Computer Science at 10:00. The advantage of this multi-discipline approach is that the language department gets the benefits of a dedicated room without the need to fund the entire budget for the lab.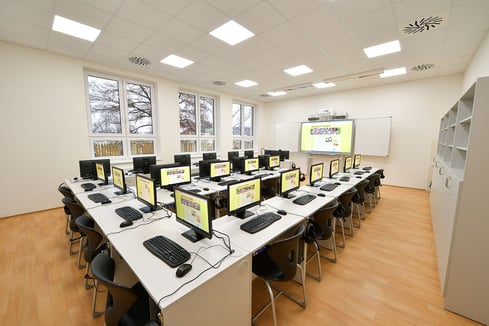 Portable Language Lab Systems
For schools that are unable to use a dedicated room or even a multi-discipline room for language learning, portable systems – that can be wheeled or hauled from room to room – can provide a workable solution.
With a portable system, remember that it takes a finite amount of time to hand out and collect the devices at the beginning and end of class, so there is some lost productivity.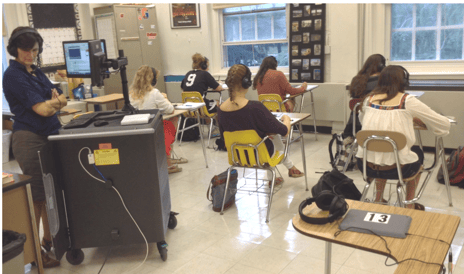 The main variations of the portable lab are:
Carts –

They typically have a lockable storage area that can hold up to 40 student tablets, 30 student laptops, or 30 student Chromebooks. More sophisticated carts include built-in battery chargers and support for concurrent "syncing" of device configurations. The cart may also include the teacher's station, wireless networking equipment, and headset storage.

LLIAB (Language-Lab-in-a-Box) –

A language-lab-in-a-box typically does not support individual computing devices. Instead, students use telephone-like terminals that serve as a connection point for their headsets and include some interactive controls.
BYOD Programs
Many schools are adopting BYOD (Bring Your Own Device) programs, under which students bring their own workstations to class. Such programs have several potential benefits for administrators, IT staff, and teachers:
The school does not have to purchase and maintain student workstations

Students are solely responsible for the care of their devices

Students have access to their devices outside of class
It is this "cloud access to the activity management" capability that offers the most benefits for language learning, as it again amplifies the amount of time that students have to develop their listening and speaking skills
1-to-1 Programs
Many schools are migrating towards 1-to-1 programs, under which all students are issued identical laptops, tablets, or Chromebooks upon enrollment. The incremental benefits of 1-to-1 programs include:
There is an even playing field with all students having the same device

The school's IT department role is greatly simplified by supporting a single common type of student device
If you are planning to implement a BYOD system outside of a 1-to-1 program, you will need to consider support for Windows, Macs, Androids, iPads, iPhones, Chromebooks, and maybe other devices. Make sure that students can use BYOD for both live and self-study activities.
Also, the reality of BYOD environment is that the network needs to meet specific requirements, such as teacher-cabled network connection, and the collaboration of the IT team to ensure proper performance.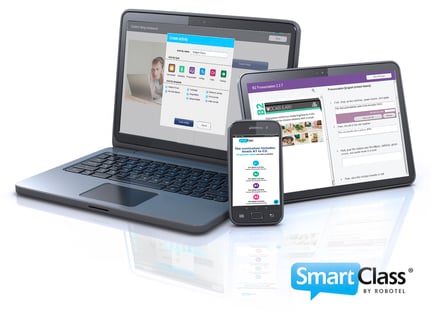 4. Which content will you use?
Many digital language lab and learning platforms are typically provided without a built-in library of lesson materials for the target languages being taught. SmartClass, however, has ready-to-be-assigned content in English, German, and Spanish.
On top of that, it includes a built-in authoring toolkit that enables teachers to build customized self-study activities easily. A set of templates is used for creating different types of recording and text response activities.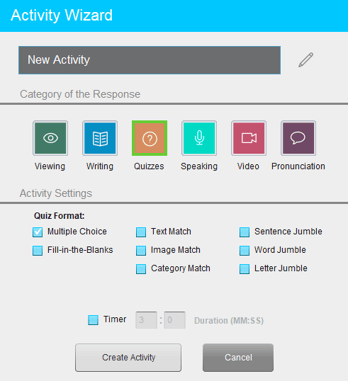 Activities use a combination of audio clips, video clips, images, text, and PDF documents as the stimulus. These media files can be imported from almost any source as long as their use is authorized for educational purposes.
The SmartClass platform also enables sharing of exercises amongst teachers – both within the same school and from other schools. This means that the task of developing lessons can be shared.
(Learn more about the types of activities that are possible in the SmartClass HUB.)
5. How can you finance a digital language lab?
Narrow down your platform choices to a couple of candidates, and then have the potential supplier host a live online or on-site demonstration for your school for all of your stakeholders. Use this as a learning opportunity to have everyone ask questions and identify potential issues.
If an on-site demonstration is not practical, you might consider using a local trade show as a means to organize a demonstration – but make sure your entire project team is there.
There is usually federal and/or regional educational grant money available for the acquisition of technology by schools. Make sure that you research potential sources for grant money before finalizing your budget for the acquisition of a language lab system. In many cases, available grant money can fund the entire project.
6. Training teachers and managing expectations
At the beginning of a project, everyone is enthusiastic. There is often an unspoken expectation that a new digital language lab platform will be installed at the beginning of a term, and all teachers will be fully versed in using the system within a couple of weeks.
That may be true for the system's basic capabilities, but you need to anticipate that it will take at least one year before the majority of teachers are fully proficient with all system capabilities. Very much like learning a new language, mastery of a language learning platform comes with practice, practice, and more practice.
That's why SmartClass offers extensive training and a self-paced online course, the "SmartClass Academy" for teachers to train themselves and review important aspects of teaching with SmartClass.
If you are ready to take the next step and find out more about the SmartClass language lab and language teaching platform, their content, and the exquisite service and support we offer, book a personalized call today!