How to be a better teacher - tips and tricks to help you improve
Great teachers don't only put a lot of work into their lessons and materials, they also constantly reflect on their lessons, objectives, and goals. Changing nothing and sticking with what you know won't make you a better teacher. All good teachers know that learning doesn't stop when you graduate college.
If you haven't taken the test yet to find out if you are the best teacher ever, click here.
Otherwise, dive right in and read our 8 tips to help you become a better teacher!
1. Be fluent and confident in the language/subject you teach
Before you can teach a language (or any other subject for that matter), you should have mastered it yourself. Only then do you truly KNOW what your students are struggling with. Chances are if you had trouble learning the adjective endings in German (I am still having a hard time teaching that concept!), so will your students. Being a teacher comes with the unspoken rule of always continuing your own education while you teach others as well. The more you know, the more you can pass on to your students.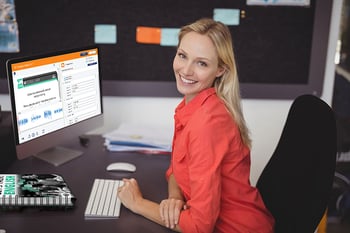 There are many apps, programs, and websites out there to continue learning. If that's too passive and you need something to hold you accountable, consider signing up for continuing education classes at online or local universities. Your district might also offer professional development opportunities or pay (partially) for any classes you take. Subscribing to education newsletters or reading the latest articles and publications in your subject area are all ways to keep up with the newest developments and become fluent in the subject matter.
2. Know your students: Their names, background, interests, learning style
No worries if you don't right now. There is always time to catch up and find out what matters to them. Here are some ideas to get to know your students better:
- Have your students (and/or their parents) fill out a short survey about themselves: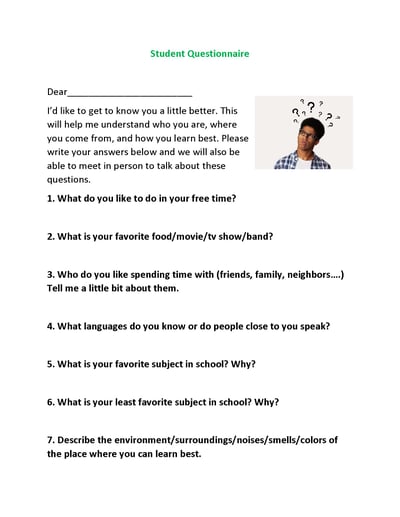 Interests, siblings, favorite food, favorite book/show, names of family members, languages they speak, who they live with, etc. (Click here to download my questionnaire for free)
- Reserve 10 minutes each Friday (or any other day) for the "Student of the Week" to share information about him/herself. They can bring in pictures, create a PowerPoint or poster, or bring in a favorite item or food to share. And don't worry. Even adult learners will love this activity! It's a great way to get to know one another and also to practice speaking in a foreign language while presenting in front of others.
- Determine what type of learner they are by checking out this blog post and taking a moment to observe your students. Who is really engaged during games and projects? Who is always raising her hand to participate? Who does great on tests and written assignments but is quiet in class?
The more you know about your students, the easier it will be to connect to them and understand their struggles. It will also allow you to tailor support to individual needs and include the families in such attempts. Finally, it will also make your students feel welcome, and cared for, and let them know that they matter to you.
3. Be passionate about the subject you teach
Being a teacher is more than just a profession, it's often a way of life. So you should truly love what you do every day. Did you start out being excited, passionate, and motivated but are now feeling overwhelmed and tired instead? While not all teachers experience this loss in passion, the ones that do usually blame it on factors like these:
- administration
- student behavior
- parental requests
- ever-changing policies in education
Trying to figure out what you are struggling with is the first step. Then, try to find more information about staying positive and regaining your passion in those areas. Take the ever-changing policies, for example. While you can't ignore them and have to adhere to them in your teaching, that doesn't mean that you can't continue to personalize learning or have fun in your classroom. Keep the projects and lessons you love and morph them to fit the new standards instead of throwing them out the window and starting from scratch. When you are passionate about something, your students will learn a lot more. So be creative in finding a way to incorporate your passions and interests into your daily lessons. Keep having fun!
4. Be reachable for your students and give them a chance to connect with you
Trust me, I know how exhausting it can be to be a teacher. And sometimes (or most times) all you want at the end of the school day is to be alone. You spend so much time with these learners (more than the average parent does with their own children!). You might not feel up to being available for one-on-one conversations. And that's okay. But try thinking about a time DURING your school day that you can be available for students who need help or simply want to tell you about their day.
- Give out prizes for a "Lunch with Mrs. Haase" to students who are doing great or who you see would benefit from a personal check-in
- Have a "What Mrs. Haase needs to know" jar on your desk. Students can leave notes in private that you can read when you have a moment. This helps you know what is going on, the students feel heard, and you have the chance to follow up with individuals when necessary.
- Join your students on the playground and take a walk together. Especially the more introverted students might open up during that time because it's informal and you aren't staring at each other.
- Share your email address or phone number (if you are comfortable) with students who struggle, or find a time during independent work to check in with them.
5. Ask for student feedback
Ask students for honest feedback! It's scary, I know. In my first semester of teaching, I knew I didn't do the greatest job. I was so nervous about sending out a survey and asking for student feedback. But, it helped me grow, and not everything was bad! Students are usually pretty nice, and while they are honest, they also like to share positive feedback. You can create a simple survey online, or ask your students to leave a note in a jar at the end of class.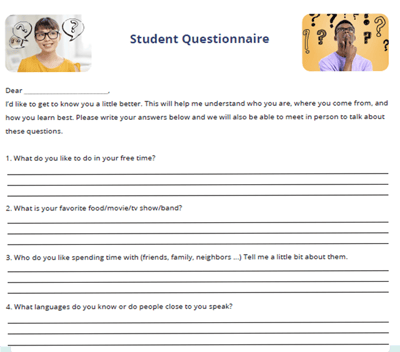 I like to ask questions such as:
What do you enjoy most in my class?

Your favorite lesson was on….

I should teach a lesson on….in the future.

If there was one thing you could change in my class it would be….

What is something you'd like to try in class?

The tests and quizzes in class are easy/okay/




just right/too hard
What do you enjoy least in my class? right/too hard?
(If you'd like a copy of this student feedback survey, click on the link below)
6. Share ideas with colleagues and collaborate

Not everyone has colleagues who teach the same language, or you might not particularly like the people in your department. Luckily, we live in a world full of online forums and groups. You don't have to work directly with the people around you. (But, you should try. It will make your life a lot easier and might save you time if you can agree to exchange ideas and materials.) There are many communities out there that focus on languages, specific textbooks or series, or the technology you use in your classroom. And sharing ideas and asking questions there might inspire you to change something up in your classroom as well.
For language teachers, ACTFL, AATG, ATTSP, NEA, etc. are great communities to find educators to collaborate with. Facebook has many groups such as "Teach with Tech." Twitter has hashtags to subscribe to, and you can probably find a wonderful teacher to follow on Instagram as well.
7. Be aware of your students' progress/strengths/weaknesses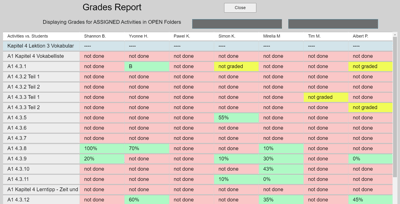 This one is tricky when you don't use any kind of technology in your classroom. It involves a lot of work to calculate grades, figure out student progress, and compare different areas of learning. But it's possible. Better yet: Find a tool that can simplify this reporting for you. AI can be used in many ways to help and aid language teachers specifically. Programs such as SmartClass have specific reporting tools that let you compare student progress and highlight their strengths and weaknesses. And not only that: It also helps you as a teacher. Are all your students struggling with the same exercise? It's a great way to know which topics to repeat or which lessons to improve so that students succeed in the future.
8. Personalize learning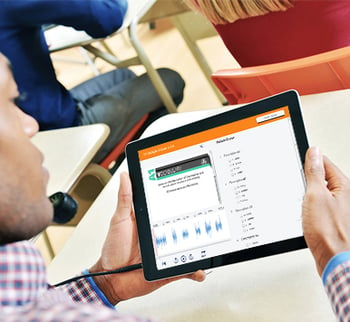 This is a tough one, so if you answered "no" here, a lot of your colleagues are right there with you. It's hard to personalize learning when you have five classes of 28 to 40 students! And even for the lucky teachers amongst us that have smaller classes, it still feels like a second full-time job to personalize learning for students. You might want to start with your lower-level students to see what you can do to help them keep up -- additional practice, review videos, partnering with a high-performing student, or finding them a tutor. I know it's not always fair to focus on those who struggle only. Our high-performing kids would benefit from some extra challenges and practice as well! Online teaching platforms such as SmartClass are a great way to make this personalization possible. Being able to create folders with activities for different levels in addition to pre-existing activities for everyone is a dream come true for any language teacher who also enjoys auto-graded activities and wants to incorporate more meaningful speaking and listening into their daily lessons.
Summary
No matter how you feel about your own proficiency and skills as a language teacher, there is probably something you can improve. Learning never stops, especially for us teachers. While you don't (and can't) work on everything at the same time, simply choose something you think you can easily improve and start there. Reach out to a colleague to ask for help, go online to find a new strategy you can try with your students, or attend a professional development opportunity or conference to connect with other language teachers to find out more about the latest trends in foreign language teaching.